For additional research in Carbon County,
try these book titles.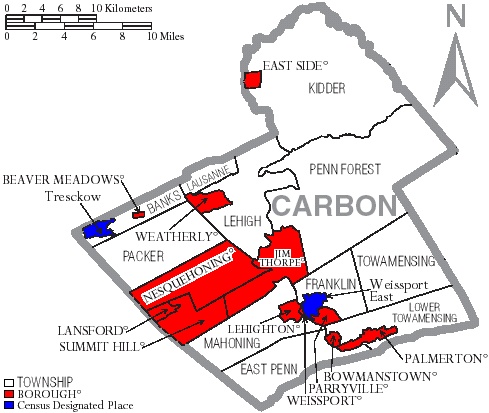 Map of Cameron County, Pennsylvania, with township and municipal boundaries, is taken from the US Census website and modified by Ruhrfisch in April 2006.
---
HISTORY OF CARBON COUNTY
Did you know?

Eckley Miner's Village, near Weatherly, was built and owned by a series of coal companies from 1854 to 1969. The village was the location site for the 1970 movie, The Molly Maguires, and included restoration of some buildings and construction of other buildings, such as a reproduction breaker, company general store, and mule barn. After the filming, the entire town was turned into a museum and its the 200 residents were allowed to live there as long as they liked. In 1870, the population of the village was about 1,000. Today, only a few residents remain.
From a history by Frederick Charles Brenckman, published in 1913.