Looking to further your research in Clinton Co.?
Try these book titles below.
Historical and biographical work : or, past and present of Clinton County (1892, reprinted 2019)
Historical And Biographical Work: Or, Past And Present Of Clinton County (reproduction)
Clinton County: Images of America
For general information and books about Pennsylvania, or to locate information about other counties, visit the Pennsylvania Page of Time Voyagers Bookstore Don't forget to check on the parent county from which a county was originally founded.
Other Useful Clinton Co. Links
History of Clinton County
Created on June 21, 1839, and was probably named for Governor DeWitt Clinton of New York, a promoter of the Erie Canal. Actually, the name seems to have been substituted, as a political maneuver, for the name "Eagle," which had been first proposed. This thwarted opponents of the new county. Lock Haven, the county seat, derived its name from its position on the West Branch Canal that was completed to Lock Haven in 1834. Lock Haven was incorporated as a borough on May 25, 1840, and as a city on March 28, 1870. First settlement was by squatters on Great Island, possibly in 1762. The area south of the West Branch River was purchased from the Indians in 1768; that north of the river in 1784. The Fair Play area, which lasted from 1768 to 1784, arose due to an ambiguity in the description of the 1768 purchase. In 1769 an influx of settlers created Old Town. The Farrandsville iron furnace and coal mine and Nathan Harvey's Mill Hall began before the county was created. Jeremiah Church founded Lock Haven and worked to have the county formed. The North Branch Canal opened up the economy. Iron manufacturing declined due to competition, but the Philadelphia and Erie Railroad arrived in 1859. During the lumber boom Lock Haven competed with Williamsport. Woolrich Mills began in 1830 and is one of the oldest Pennsylvania industries. Paper and silk industries flourished from the late nineteenth century, and dyes were manufactured. The Piper Aircraft Company arrived in 1937. Surface coal mining continues and the county ranks about eighteenth in the State. The agricultural sector is not strong, although a high percentage of the population claims German descent, a traditionally farming people. Farms occupy 8 percent of the land. Floods in 1889, 1936, and 1972 damaged the county's economy. There were Underground Railroad stations at Clinton, Keating, and Glen Union. The Native American Chief Bald Eagle, the Fair Play Settlers' Pine Tree Declaration of Independence, and log raftsman Miles King are local legends.
Source: Pennsylvania Historical and Museum Commission (PHMC)
---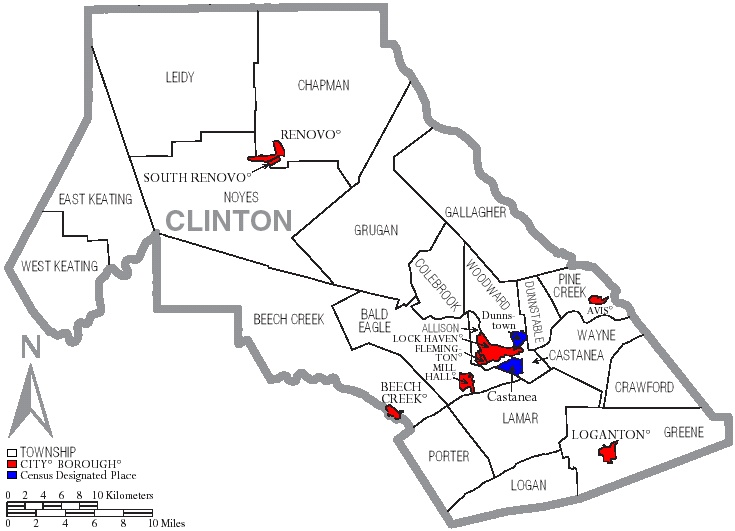 Map of Clinton County, Pennsylvania, United States with township and municipal boundaries is taken from US Census website and modified by Ruhrfisch in April 2006.