For additional research in Bedford County,
try these book titles below.
Click here for additional books about Bedford County.
For books and information about other areas of Pennsylvania, visit the Pennsylvania Page of Time Voyagers Bookstore Don't forget to check on the parent county from which the county was formed.
History of Bedford County
In about 1751, Robert Ray built a trading post, around the site of present day Bedford. It became known as Ray's Town, or Raystown, the name also given to the nearby branch of the Juniata River. Garrett Pendergrass and William Fredregill were also early traders, but none seem to have stayed for a long period of time.
In 1758, General Edward Forbes' troops built a fort at this location. Soon, it was called Fort Bedford, in honor of Englands' Duke of Bedford. This served as a staging area for colonial and British troops in their attack on the French Fort Duquesne, which drove the French from the American frontier.
Of the first permanent settlers, John Fraser and his wife Jean are the best known. Their son William, born in 1759, is supposedly the first white child born in present day Bedford County. John was a guide and scout, ran an inn, and was one of the first justices of the peace when the County was organized. When he died prior to the Revolution, she married Captain Richard Dunlap and had children to him. Other early and prominent settlers were Barnard Dougherty, Robert Galbraith, Thomas Smith, and George Woods.
In 1794, President George Washington commanded troops here to put down the frontier uprising known as the Whiskey Rebellion. His headquarters were in the Espy House, which was listed as a National Historic Landmark in 1983.
Bedford borough was incorporated on March 13, 1795. The Bedford Gazette, the first newspaper in the county, was first published on September 21, 1805 by Charles McDowell. The first county bank was the Allegheny Bank of Pennsylvania, established on April 2, 1815 by Dr. John Anderson, the first bank between Chambersburg and Pittsburgh. The bank was housed in the same building as Dr. Anderson's residence. He had commissioned renowned local architect Solomon Filler to build the stately Georgian building. Filler also designed the Bedford County Courthouse, the Presbyterian Church, St. Thomas Catholic Church, the Mann House, and the James Russell House, among others.
---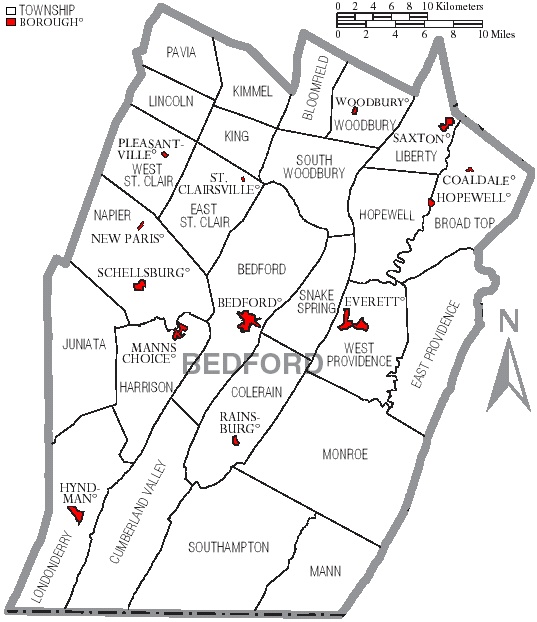 Map of Bedford County, Pennsylvania, United States with township and municipal boundaries is taken from US Census website and modified by Ruhrfisch in April 2006.