For additional research in Bucks County, try these book titles below.
Click here for additional titles about Bucks County.
For general information and books about Pennsylvania, or to locate information about other counties, visit the Pennsylvania Page of Time Voyagers Bookstore Don't forget to check on the parent county from which a county was originally founded.
History of Bucks County
Before William Penn arrived, Dutch and Swedish settlers were in the area with Bristol probably the first permanent settlement in the 1660s. Bristol became an economic center and the county seat 1705-1725, although the county remained closely tied to the economy of Philadelphia. A group of Quakers from west New Jersey settled in a village of Crewcorne, the first county seat 1682-1705, prior to being reorganized by Penn. Crewcorne no longer exists.
After 1681, most original settlers were English Quakers, and William Penn's estate was at Pennsbury Manor. Other groups followed, including German Mennonites and Lutherans, Dutch Reformed, Welsh Quakers and Baptists, Scotch-Irish, Presbyterians, Hueguenots, and Irish Catholics. During the religious Great Awakening, the log college at Neshaminy educated clergymen. Settlements spread up river and along the Neshaminy Creek, into the Perkiomen Creek valley, and into Richland Township to settle around Quakertown. The need for more land purchases from the Lenni Lenape Indians led to the infamous "Walking Purchase." William Penn sought fair treatment of Indians and demanded purchase agreements before he would permit settlers to occupy former Indian land. However, Penn's sons, Thomas and Richard, took advantage of Indian trust. Indians had been satisfied to sell land measured by the distance a man could walk a day in a half at a leisurely pace. However, Thomas and Richard hired three athletes to "walk" the land. Two collasped, but the third covered sixty miles. The Indians felt cheated and the seeds for the French and Indian War had been sown.
In 1776-1777, Washington used Newtown and Keiths as bases for his Trenton and Princeton campaigns, crossing the Delaware on Christmas at McConkey's Ferry and in 1778 his army camped at Doylestown. This was in contrast to Quakers and Mennonites, who through tradition were non-participants. Despite a Tory base in Bucks County, the county contributed heavily to the cause for independence. The Doane gang, a group of Tory terrorists, robbed tax collectors and the Newtown treasury three days after the British surrender at Yorktown in 1781. It wasn't until 1783 when leader Moses Doane was killed by a posse, and 1788 when the rest of the gang was hanged, fled to Canada, or disappeared. Even after the Revolution, when British holdings were confiscated in the new American Commonwealth, the late Englishman William Penn would hold a permanent place of honor in Pennsylvania history. Despite having been granting land patents under British law, Penn descendants were permitted to retain ownership of their personal estates.
The Fries' Rebellion occurred in 1798 in opposition to a federal tax on windows. Bucks has a long tradition of high quality farming, including selling seeds that are used all across the nation. Dairying became strong toward the end of the nineteenth century. Wealthy estates have acquired much of the farming area; 22 percent of the land is currently farmland. Textiles, pottery, and decorative tile making flourished. The U. S. Steel Company built a plant after World War II, and then the population increased sharply. Many found homes in the new housing complex of Levittown. Explorer Zebulon Pike, writer Pearl Buck, and War of 1812 General Jacob Brown were all from Bucks. There were Underground Railroad stations in four towns.
Source: Pennsylvania Historical and Museum Commission (PHMC)
---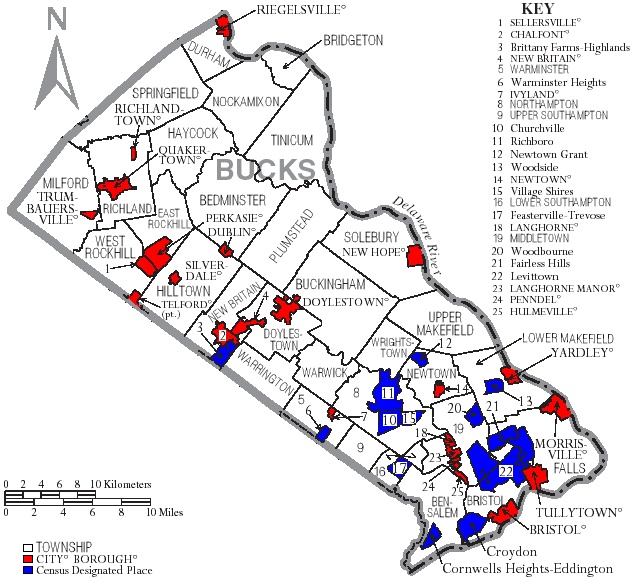 Map of Bucks County, Pennsylvania, United States with township and municipal boundaries is taken from US Census website and modified by Ruhrfisch in April 2006.