Looking to further your research in Adams Co.?
Try these book titles below.
For general information and books about Pennsylvania, or to locate information about other counties, visit the Pennsylvania Page of Time Voyagers Bookstore Don't forget to check on the parent county from which a county was originally founded.
History of Adams County
Adams county was formed on January 22, 1800 and named in honor of President John Adams. Settled by migrants from both Maryland and eastern Pennsylvania, Adams has always had a strong German ethnic strain and a farm-based economy. Although it once led the state in wheat production, general farming eventually prevailed, and apples are now its most famous product. Even though John Studebaker's wagon works gave his name to a major Detroit car manufacturer, the county has never been industrialized until recent decades. As a result, the population has grown slowly until the last decade. Farms cover 56 percent of the land, and Adams has long led the state in fruit production; currently it produces over 40 percent of Pennsylvania's harvest. It is also strong in wheat, barley, soybeans, and hay. Food processing businesses are very successful and this, with a strong publishing industry, wood products, and farmers' supplies, accounts for Adams' remarkable 59 percent increase in the value it has added to the nation's economy by manufacturing over the five years from 1987 to 1992.
Gettysburg, the county seat was incorporated as a borough on March 10, 1806. It was named for James Gettys, a local landowner. The Battle of Gettysburg, July 1-3, 1863, was an irreparable loss for the Confederacy, and spawned a large tourism industry. Gettysburg College, at first named Pennsylvania College, was founded in 1832. President Dwight D. Eisenhower's farm near Gettysburg was his private residence during and after his presidency.
Source: Pennsylvania Historical and Museum Commission (PHMC)
---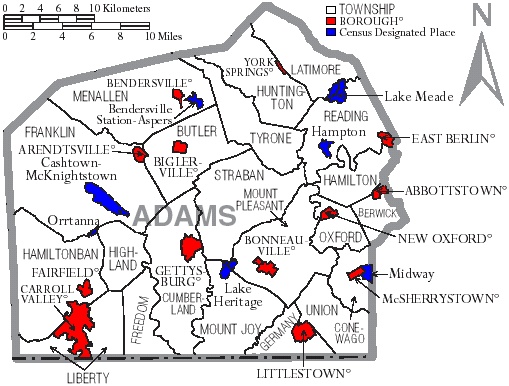 Map of Adams County, Pennsylvania, United States with township and municipal boundaries is taken from US Census website and modified by Ruhrfisch in April 2006.